Qili Qiangxin Capsules 芪藶強心膠囊
May 11,2023 | YILING
Guided by Theory of Meridians and Collaterals
Study on pathogenesis, effective compositions and effects of chronic heart failure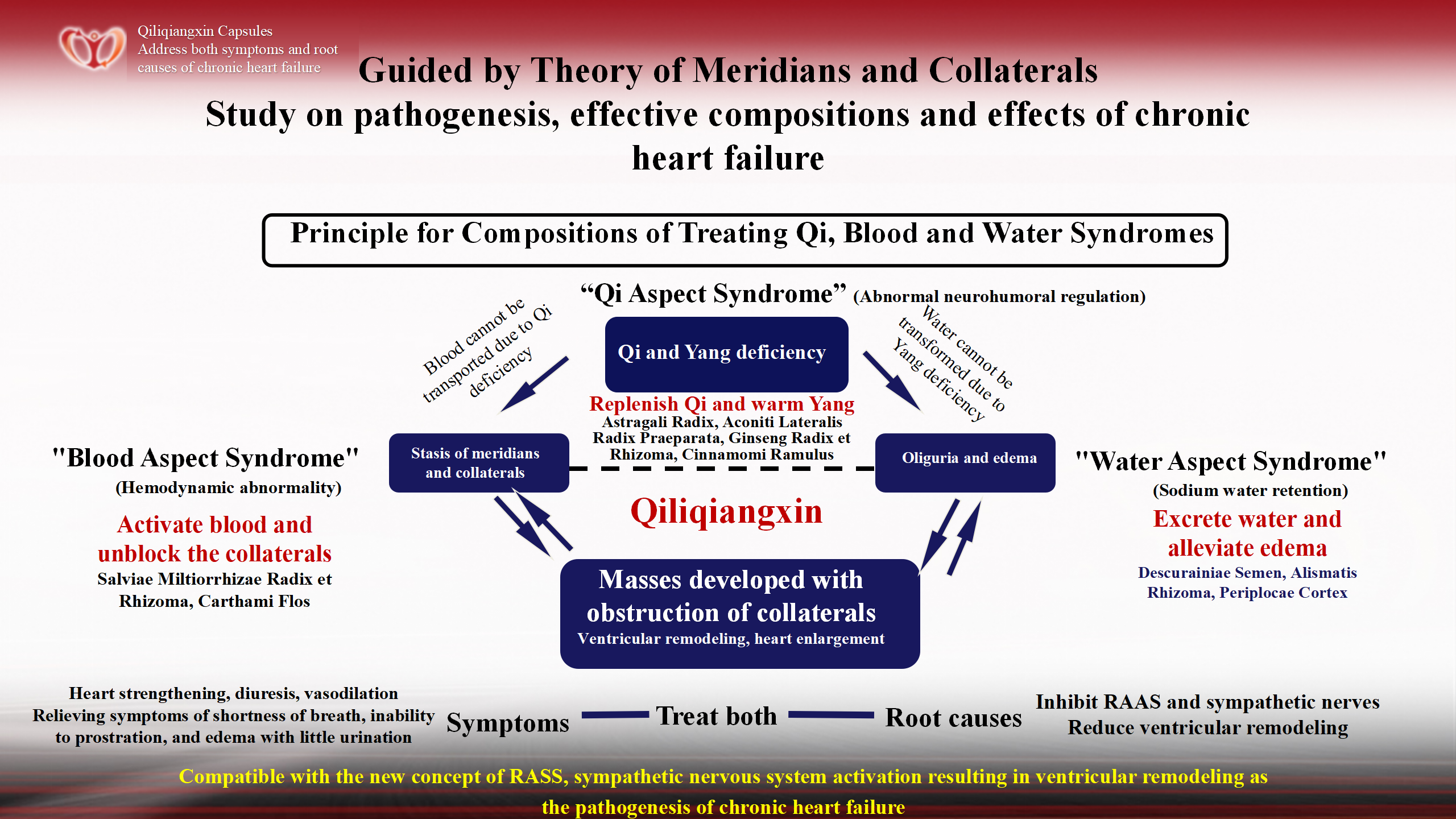 To Further Clarify the Mechanisms of Qiliqiangxin Capsules Compared with Four Major Categories of Standardized Therapeutic Medicines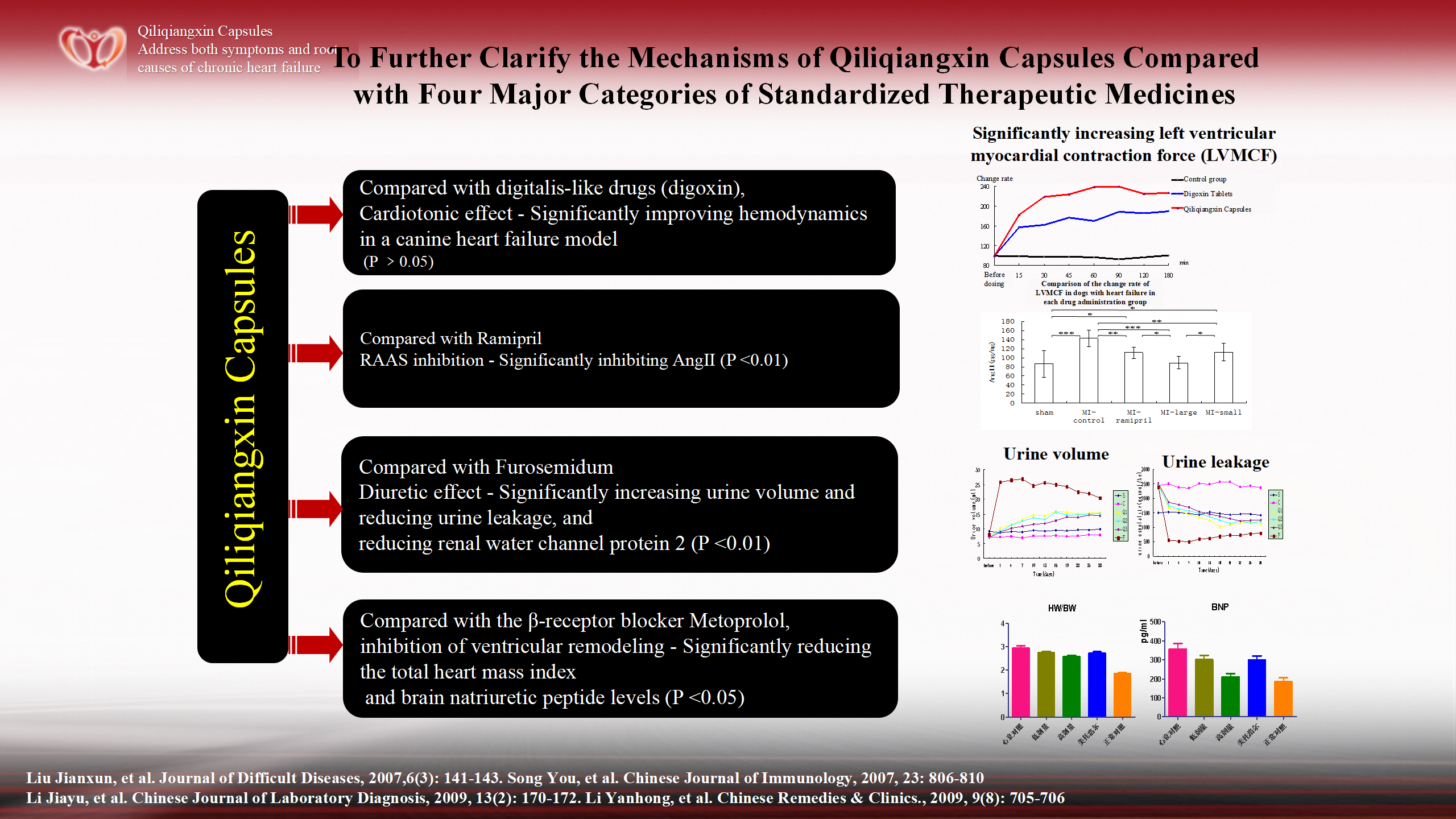 Research on Mechanism of Intervening Heart Failure with Qiliqiangxin
Ventricular remodeling represents the most fundamental mechanism for the development of heart failure.
Qiliqiangxin protects microvasculature, reduces cardiomyocyte apoptosis, improves energy metabolism, suppresses ventricular remodeling, and improves cardiac function.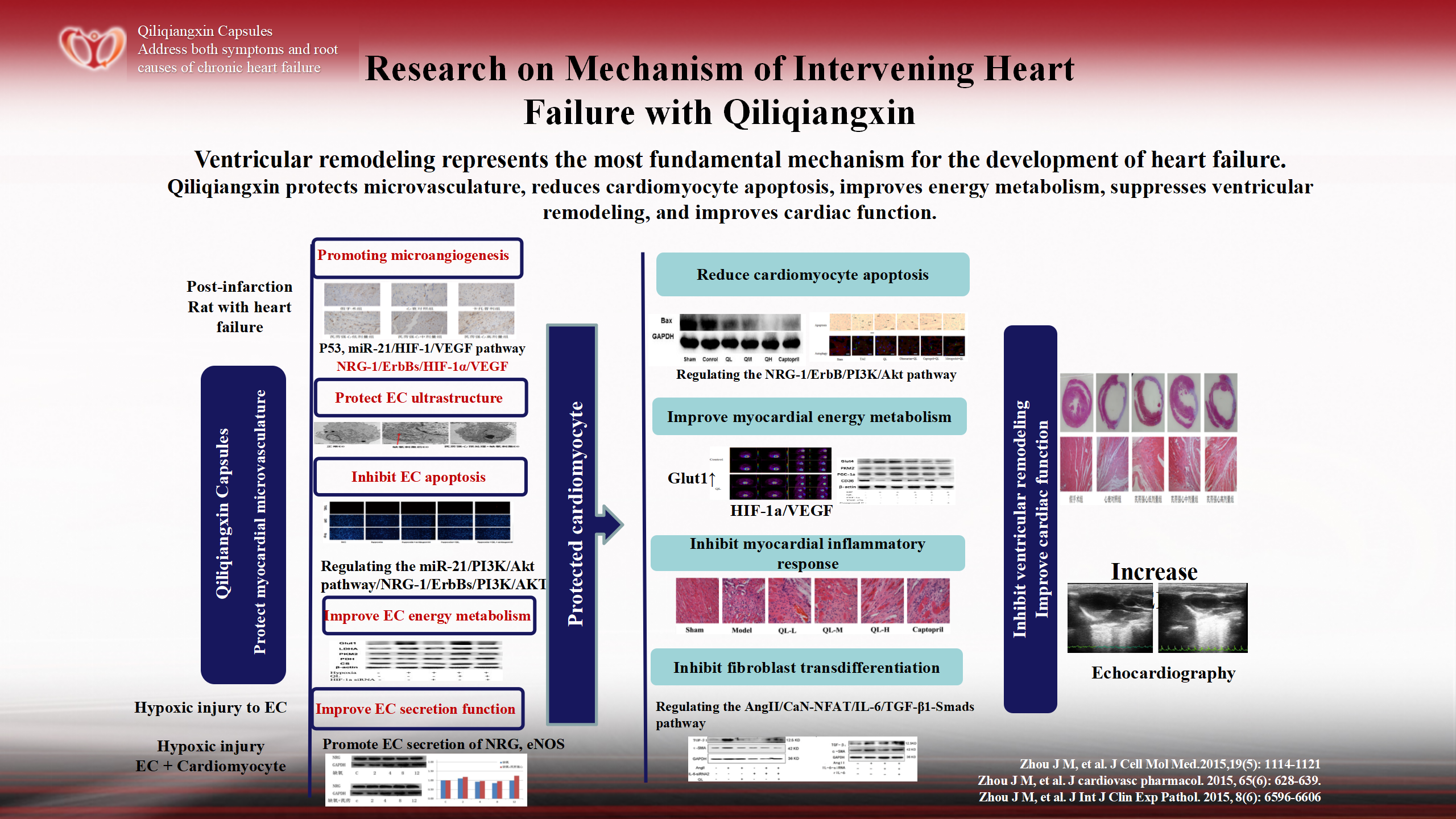 Combined Administration Advantage of Four Categories of Western Drugs for Heart Failure
Address both symptoms and root causes of chronic heart failure
The Only Chinese Medicine Recommended in the Guidelines Issued by Chinese Medical Association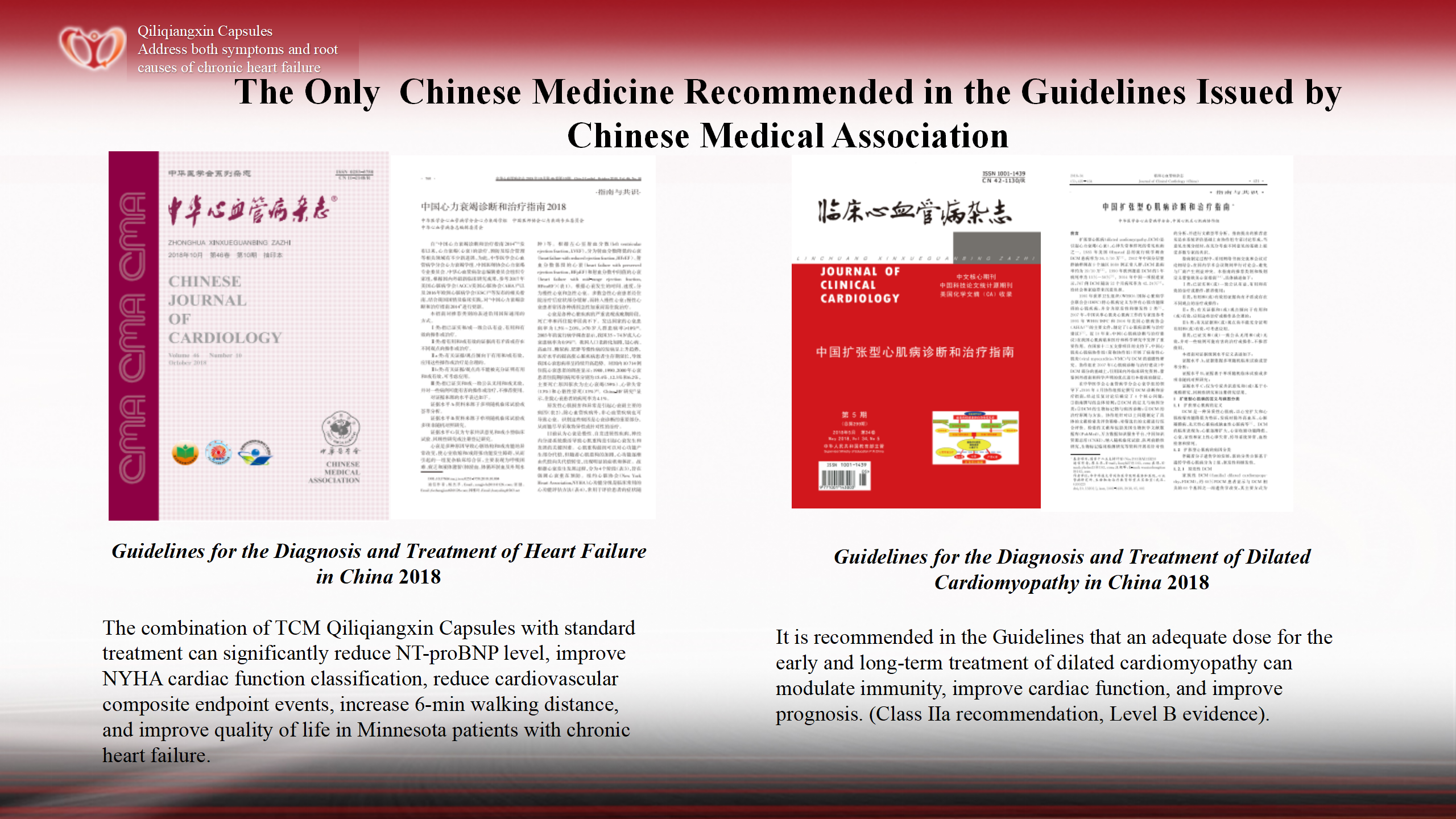 Randomized, Double-blind, Controlled, Multicenter Clinical Study of Qiliqiangxin Capsules for the Treatment of Chronic Heart Failure
Investigation Unit(s): 23 Grade III Class A hospitals led by the First Affiliated Hospital with Nanjing Medical University and Fuwai Cardiovascular Hospital
Principal Investigator(s): Academician Gao Runlin, Fuwai Cardiovascular Hospital, Chinese Academy of Medical Sciences; Academician Zhang Boli, China Academy of Chinese Medical Science; Professor Huang Jun, The First Affiliated Hospital with Nanjing Medical University.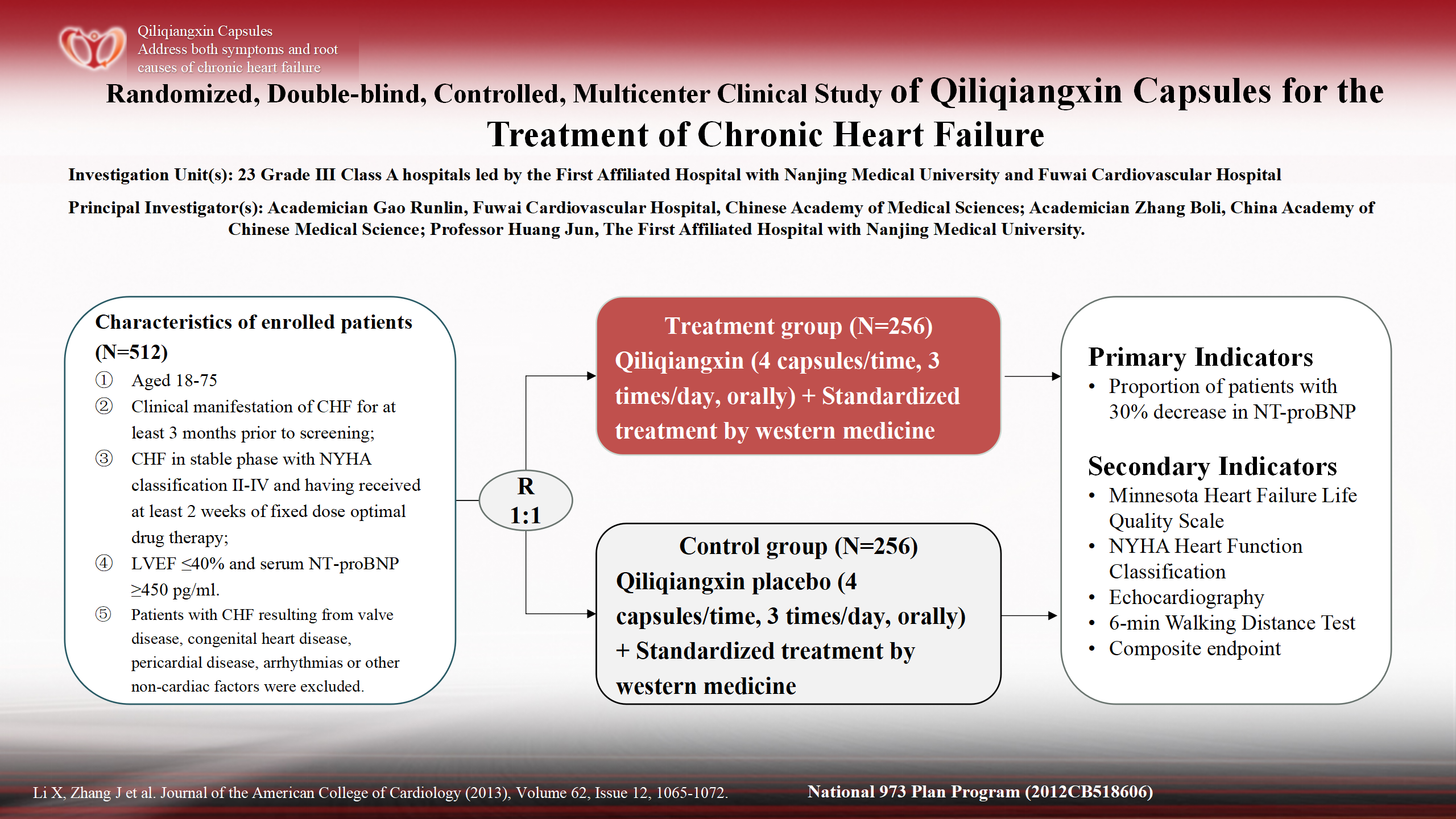 Significantly Reduce Amino-terminal B-type Natriuretic Peptide Precursors
(NT-proBNP)Level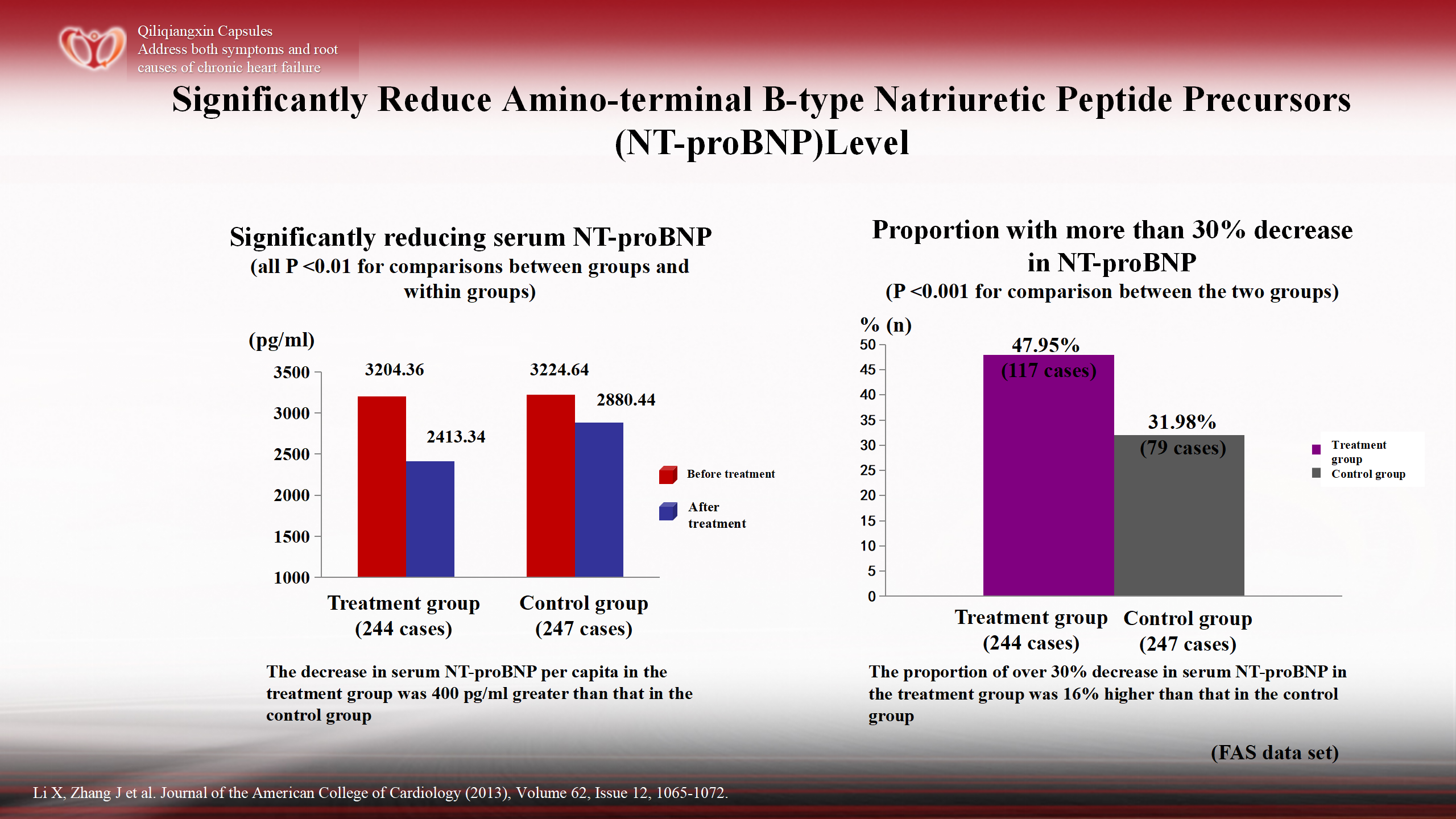 Significantly Improve the MLHFQ Score
Qiliqiangxin Capsiles significantly improve symptoms such as swollen lower limbs, insomia, shortness of breath, fatigue, and daily activities of patients
Qiliqiangxin Capsules Improve the New York Heart Association (NYHA) Heart Function Classification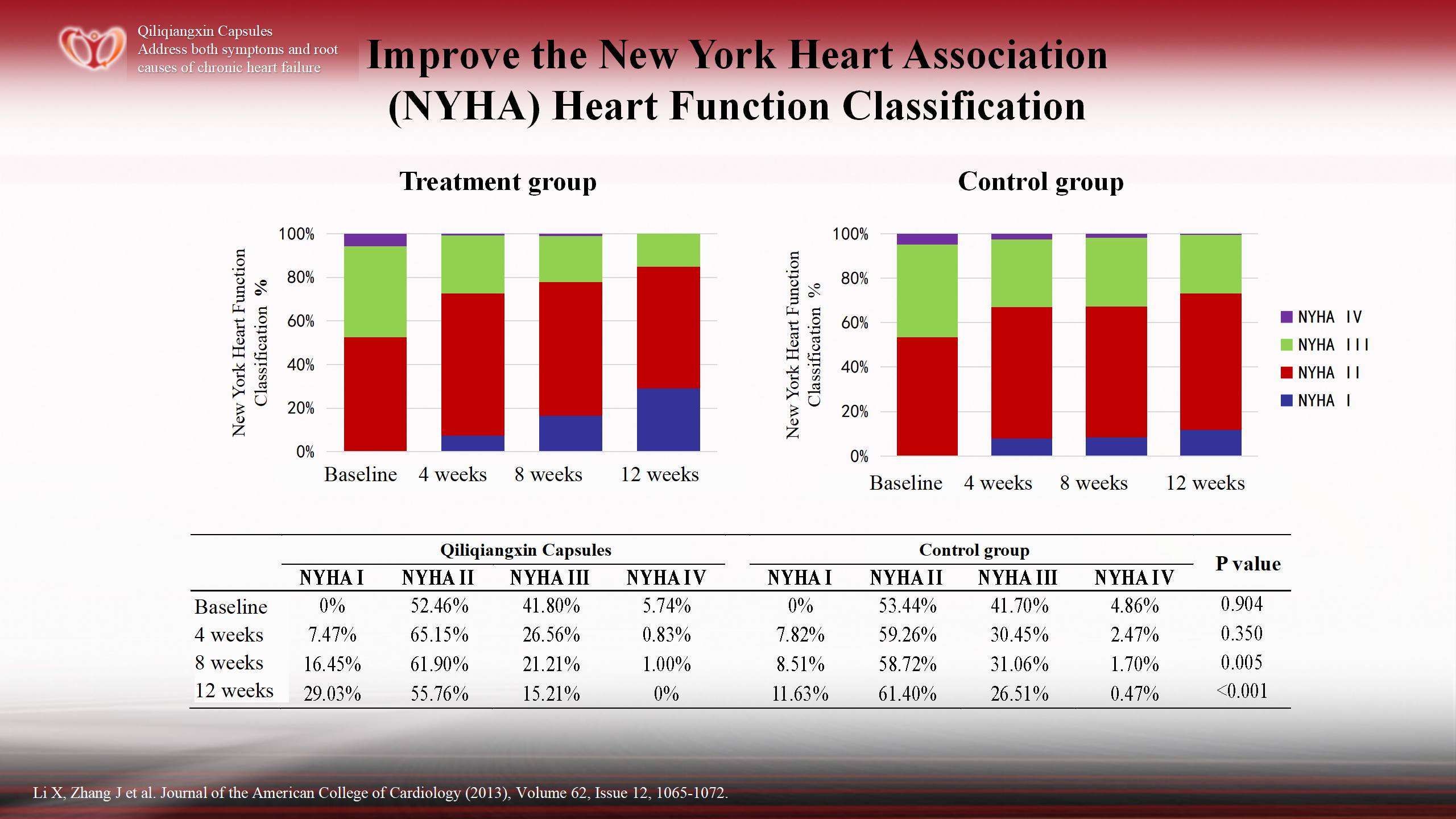 Qiliqiangxin Capsules Increases the LVEF and 6-Min Walking Distance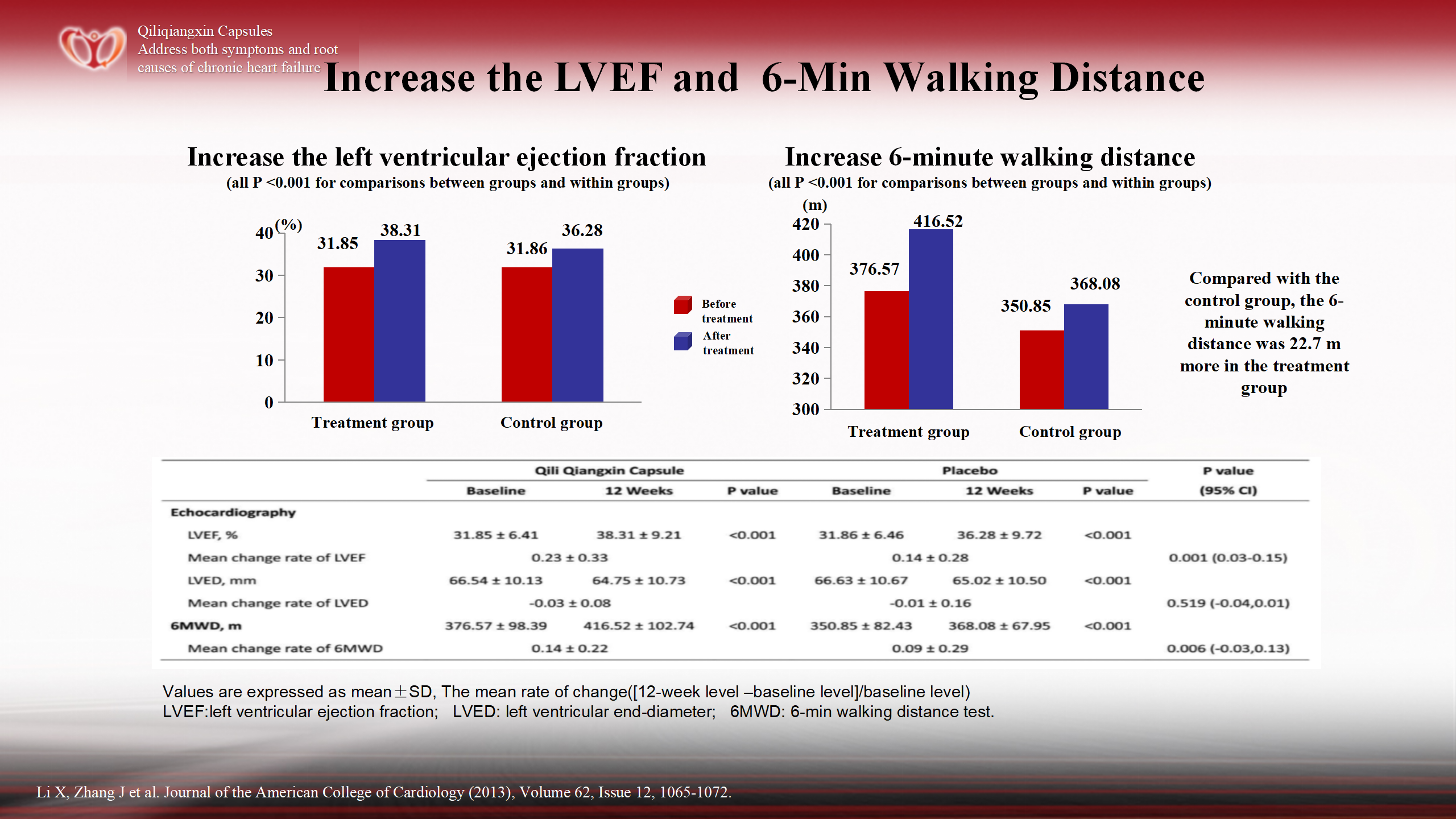 Values are expressed as mean±SD, The mean rate of change([12-week level –baseline level]/baseline level)
LVEF:left ventricular ejection fraction; LVED: left ventricular end-diameter; 6MWD: 6-min walking distance test.
The rate of composite cardiac events was significantly lower than that of the control group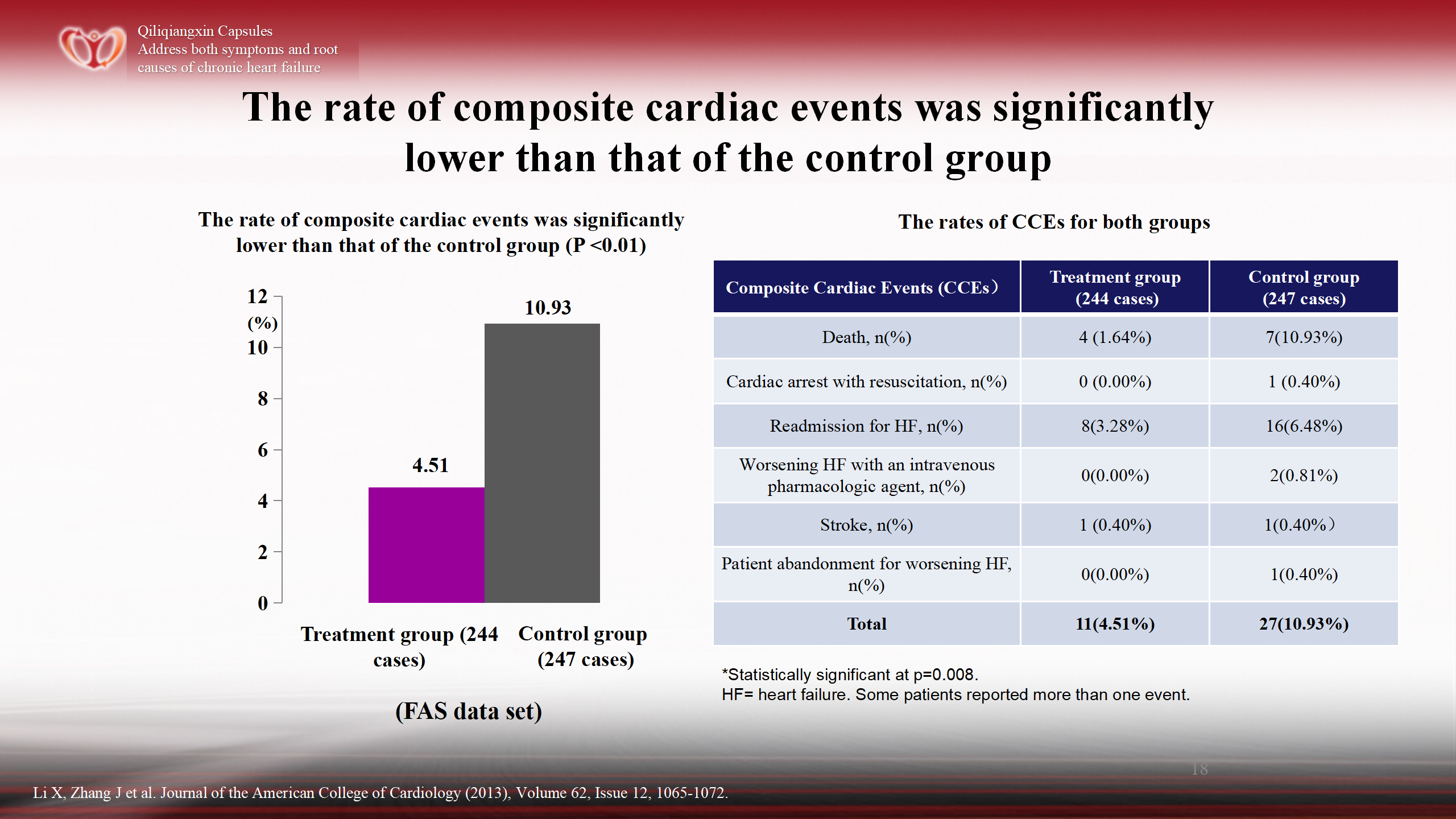 Qili Qiangxin Evidence-based Studies Published in JACC, the Top International Journal on Circulations
Journal of the American College of Cardiology (JACC), IF = 24.094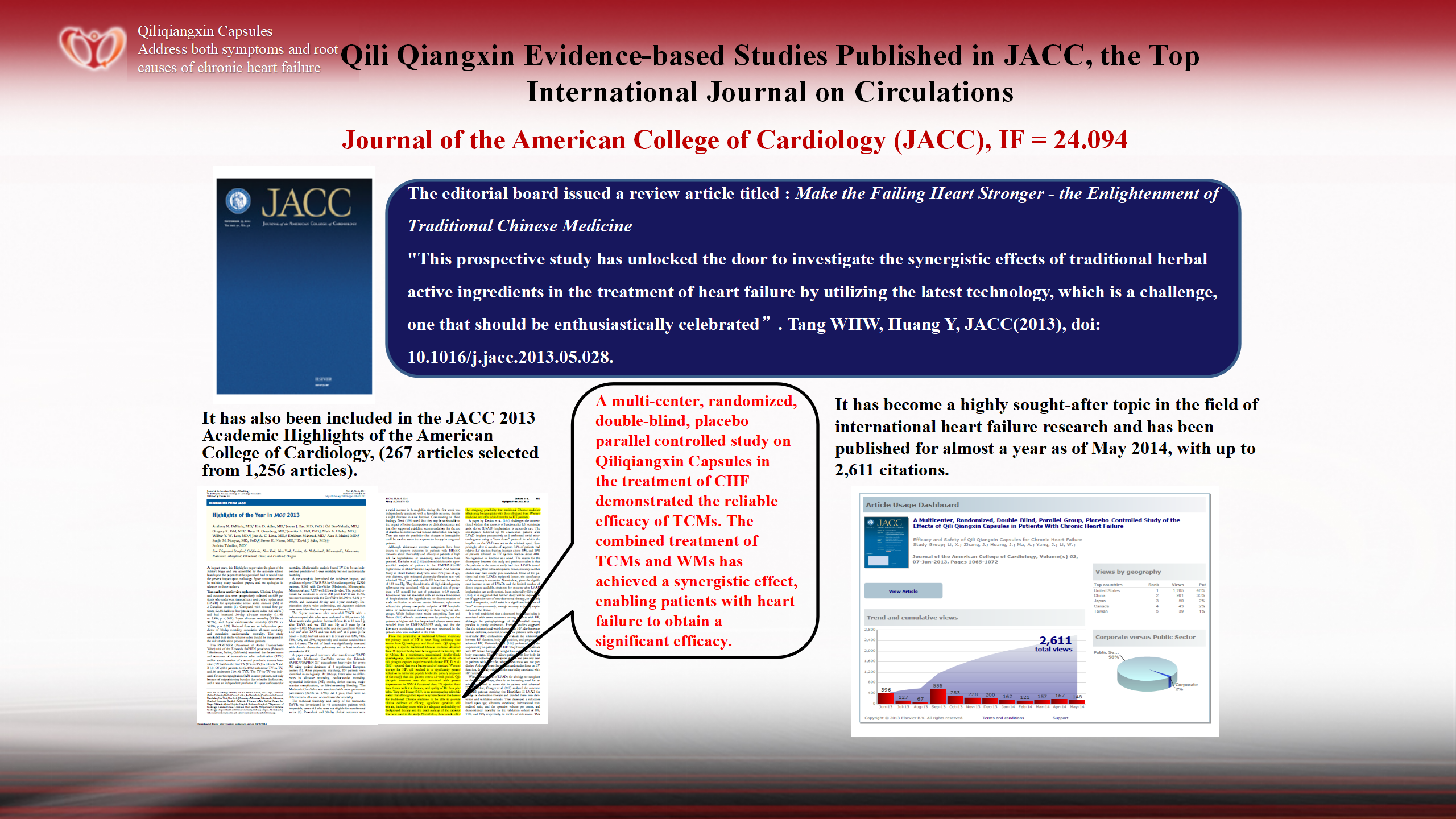 How Do You Choose for CHF?
Optimized combination of Chinese and Western medicine for the treatment of CHF by adding Qiliqiangxin Capsules
is a prime choice for the "rejuvenation of the horse".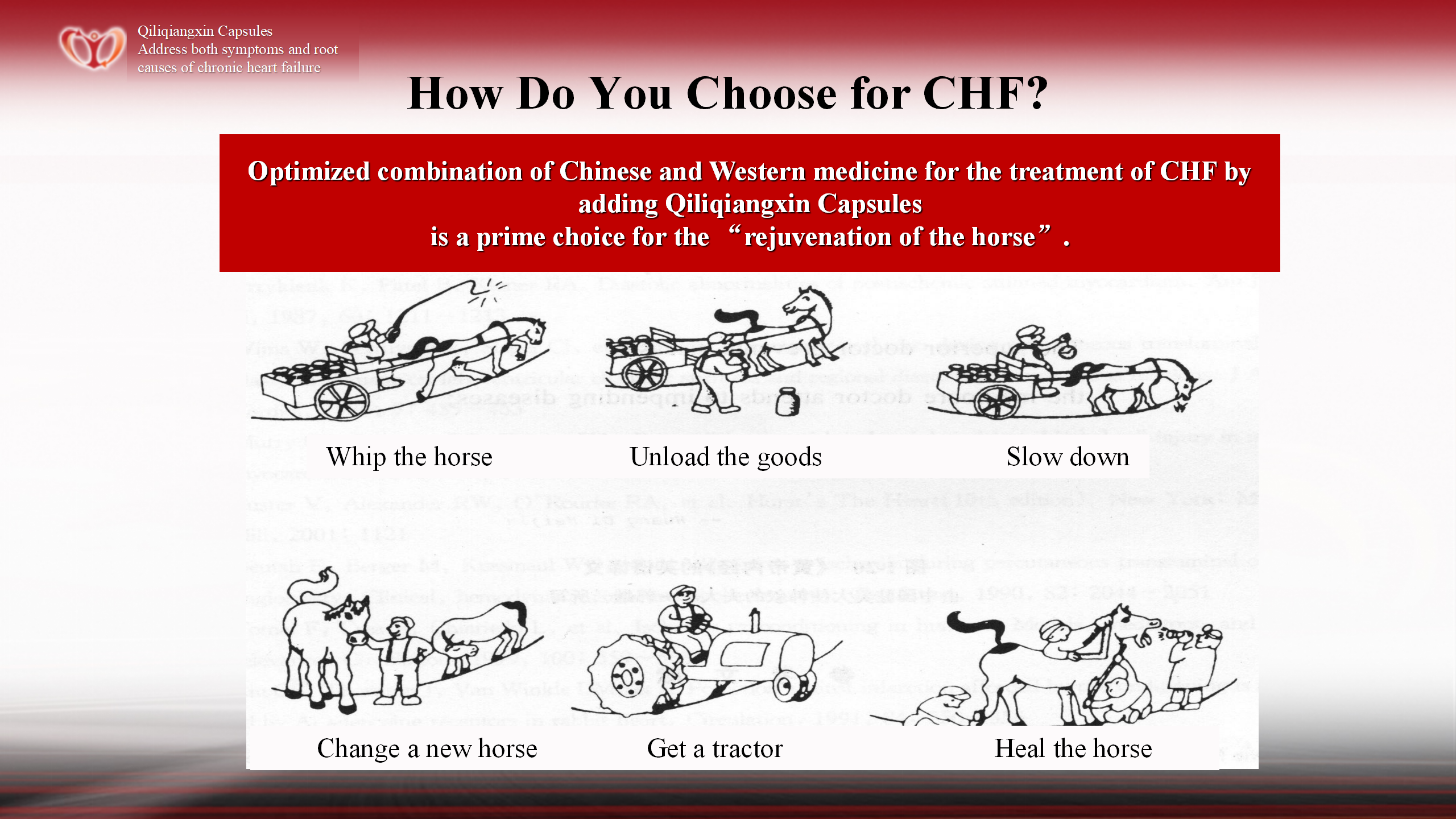 Qiliqiangxin Capsules + Standardized Treatment Combination of Chinese and Western Medicine to Benefit More Heart Failure Patients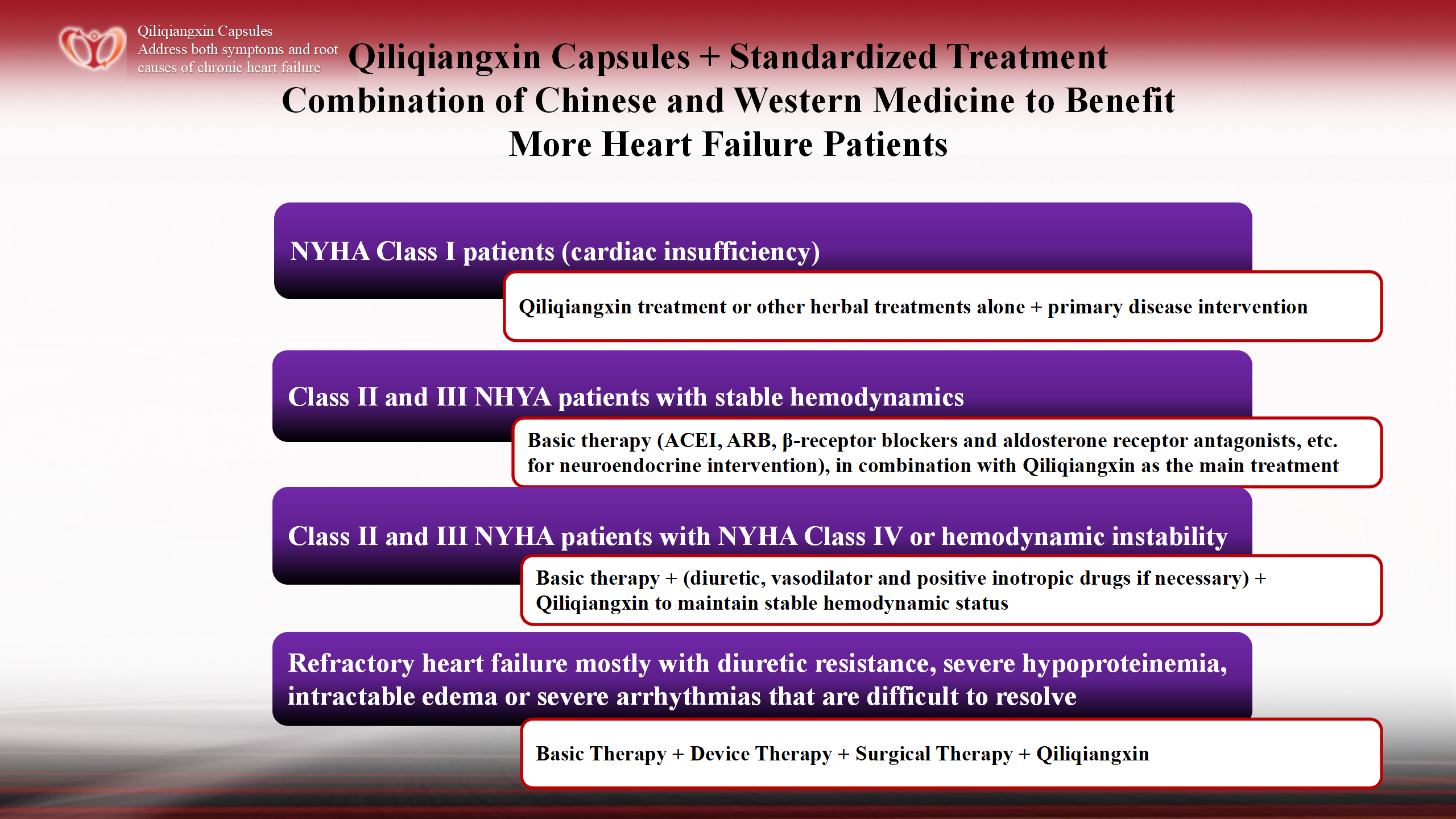 Prescription Information of Qiliqiangxin Capsules
Ingredients: Astragali Radix, Ginseng Radix, Aconite, Salvia, Pepperweed seed, Oriental Waterplantain Rhizome, Fragrant Solomonseal Rhizome, Cinnamon Twig, Safflower, Chinese Silkvine Root-bark, Dried Tangerine Peel.
Major function: Replenish Qi and warm Yang, activate blood and dredge collaterals, excrete water and alleviate edema
Indications: It is indicated for patients with mild and moderate congestive heart failure caused by coronary heart disease and hypertension, belonging to deficiency of Yang Qi and collateral stasis with the symptoms of palpitation, shortness of breath, and aggravation of movement, inability to lie flat at night, edema of lower limbs, fatigue and weakness, short urination, cyanotic lips, fear of cold and cold limbs, coughing and spitting white phlegm, etc.
Usage and dosage: Oral, 4 capsules, 3 times a day, 12 weeks is a course of treatment.
Precautions: If you are taking other medicines for treatment of heart failure when using this medicine clinically, abrupt discontinuation is not recommended.
Strength: 0.3 g/capsule.
Package: Packed in aluminum-plastic panel, 36 capsules/box
Comment