Breaking News! JAMA, an international top medical journal, released a Chinese original research result: Tongxinluo significantly reduces the mortality rate of patients with acute myocardial infarction
Oct 27,2023 | YILING
On October 24, 2023 Beijing time, the world-class medical journal JAMA (Journal of the American Medical Association), which had an impact factor of up to 120.7 points, heavily published a traditional Chinese medicine study titled "Clinical efficacy of Zhongguo Tongxinluo in treating acute myocardial infarction - CTS-AMI clinical randomized study". The research results show that Tongxinluo can significantly improve the 30 day and 1-year clinical prognosis of patients with ST segment elevation myocardial infarction (STEMI).
Previously, this study was recommended as the latest breaking science (LBS) at the 2022 American Heart Association (AHA) Annual Conference, a world-class academic conference in the field of cardiovascular disease. It became one of the high-impact heavyweight studies of the conference at that time. The research leader, Professor Yang Yuejin from Fuwai Hospital of the Chinese Academy of Medical Sciences, was invited to give a report at the LBS segment of the conference, And it has received widespread international attention.
The CTS-AMI study is the first randomized controlled trial (RCT) study of traditional Chinese medicine to be published in the main journal of JAMA, and it is also a major breakthrough in evidence-based medicine research of traditional Chinese medicine, taking a solid step towards the internationalization of traditional Chinese medicine. This authoritative publication by a top international journal is a significant milestone in the modernization of traditional Chinese medicine, demonstrating the scientific research and innovation capabilities of Chinese researchers in the new era. This article is currently organizing the research content for the benefit of readers.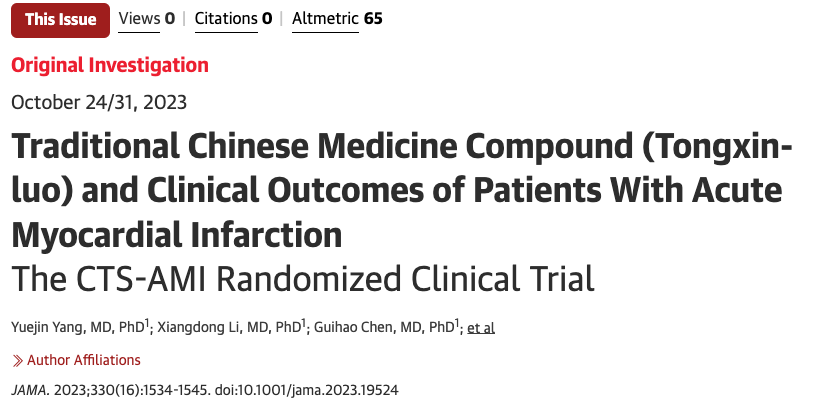 Summary Original Link:
https://jamanetwork.com/journals/jama/article-abstract/2811016
As the first traditional Chinese medicine to win the title of JAMA, Tongxinluo Capsule developed by Yiling Pharmaceutical has been exploring the evidence-based approach for more than 20 years, and the number of previous basic and clinical studies is also countless. The award this time reflects the determination of Tongxinluo to persistently explore the truth, not only demonstrating the scientific research strength of Chinese researchers, but also paving a successful path for the treatment of clinical diseases through the integration of traditional Chinese and Western medicine and how to find a point of integration of traditional Chinese and Western medicine. It truly brings the treasure of thousands of years of traditional Chinese medicine culture to the world, winning recognition from the international medical community and the international community. I believe that the success of this study will also lay a solid foundation for the innovation and modernization of traditional Chinese medicine. This newspaper will track and report on this, and we kindly request your attention.
Comment